For more information about MOUNTAIN CONSTRUCTION and a Free Initial Office Consultation CONTACT us 828-963-8090.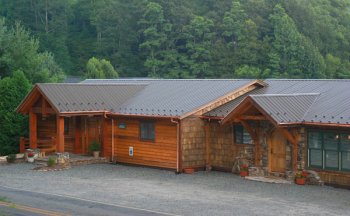 Reprinted from High Country Home Magazine and Resource Guide, Fall 2011
Mark Kirkpatrick was born a builder. His first construction project began in 1977, and he gained experience in tying steel, studying engineering detail, and reading blueprints. He also gained insight into what he wished to accomplish in life: to create well-built and well thought out custom homes. Understanding the importance of team building, he began working to develop relationships with top-notch carpenters, masons, plumbers and electricians.
Mark earned a degree in education and was employed as a teacher for a number of years, using the summers off to work in construction. After hiking the Linville Gorge one year, his plans changed; he decided to make Banner Elk his permanent home and start his own business in custom home building, Mountain Construction Enterprises, Inc. His experience in construction allowed him to develop a company known for their creativity, vision, quality and passion for the art and craft of custom home building. Established in 1982 by Mark Kirkpatrick and his wife, Debbie Arnold, Mountain Construction was the first Timber Frame company in Boone, and they remain at the cutting edge of custom mountain home building and remodeling. Mark Kirkpatrick has the vision and experience to build any client's mountain memories, and their philosophy of "Building Art You Can Live In" is evident in every home they build. They are also NAHB Green Certified and use sustainable building practices on all of their projects. They use their experience, knowledge and resources to advise clients on how to make their homes environmentally friendly. Mountain Construction has built homes from Blowing Rock to Linville, Grandfather and down to Lake James, across to Watauga Lake and into West Jefferson. Through these projects he has gained experience in timber construction, log construction, Adirondack style, Craftsman style and, most importantly, structure.
Mountain Construction Enterprises offers a Free Initial Office Consultation and assessment, and they can also recommend designers and architects in order to complete the homeowner's vision. His clients express their satisfaction with his hands-on approach, creativity, and the effort he puts forth to build the finest homes for the most reasonable cost. Their vision is always client-driven, and their projects often evolve as their clients become involved in the design and building process. Mark works hard to develop relationships based on trust, commitment and follow-through with all of his clients, and their satisfaction is evident when observing the craftsmanship and dedication that goes into creating these one-of-a-kind homes. For more information on Mark Kirkpatrick and Mountain Construction Enterprises, Inc. call (828) 963-8090 or visit their website at www.mountainconstruction.com.
Mountain Construction are North Carolina Builders that specialize in New Home Construction. We also can provide Remodeling services, and are happy to work with you on your next building project. Please contact us for more information.
See more photos of our work.