Barns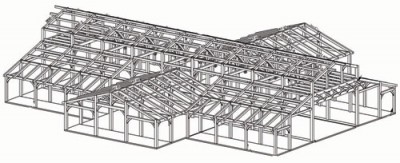 HearthStone offers some of the best barn designs and construction in the business. We have provided some samples below. Feel free to contact us for more information.
Log - Timber Frame - Mortise and Tenon - Handcrafted
Barns are a great American tradition. Whether a place to house animals, a site for the occasional social gathering, or the home to your antique car collection ... a HearthStone Heavy Timber Barn is THE DEFINITIVE out-building. 
Hearthstone has built a variety of log and timber frame barns throughout the United States. We can take your ideas and design a barn that will meet all of your needs, with aesthetic and structural appeal.
Commercial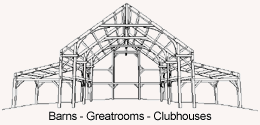 Mountain Construction Enterprises with Hearthstone Homes can participate in the layout and construction of large commercial timber structures such as Timber Frame or Log hotels or shopping complexes.
For our commercial services we act as a Log or Timber Frame subcontractor to a commercial general contractor. We have subcontracted Timber Frame work for commercial buildings in Beaufort, SC, Avery County, NC, Charlotte, NC, and High Point, NC.
The marketing possibilities for such projects are many. For interested individuals, builders or realtors, our commercial portfolio illustrates a variety of commercial structures that Hearthstone has provided. Customers interested in commercial buildings are urged to have design work done primarily with their personal architect in consultation with our staff, for the most satisfactory results. We offer many exciting, unusual and functional solutions to whatever your particular commercial building needs might be.
Timber Frame and Log buildings, made of massive timbers, connected with precise mortise and tenon joinery, create the perfect match of strength and beauty for just about any commercial structure.
We are heavy timber specialists ... meaning that we can advise you on every facet of Log and Timber Frame design and construction.
No matter what your particular Commercial Timber building needs are ... Hearthstone of Boone can assist you and your architect in providing a custom solution.
Commercial Building Photo Gallery