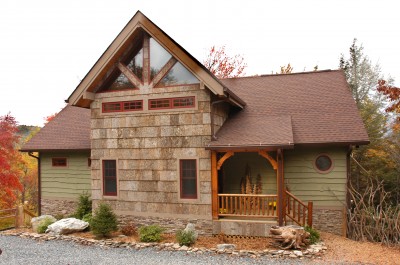 Structural Insulated Panel (SIP) Homes and consist of a rigid foam core sandwiched between two structural boards. SIPs are pre-cut, custom fabricated and quickly fitted together at the job site.
A tremendous building product, SIPs feature supreme energy efficiency and strength. They can be used for exterior walls and roof. The exterior finish and architectural look can be anything that can be applied to any other type of structure, for example, stone, glass, brick, etc. The interior walls are finished the same way any other interior wall could be finished.
Structural Insulated Panel (SIP) technology can be used with any house design or style.
All of our Timber Frame Homes are built using Structural Insulated Panels. Many of these homes are "Hybrid Homes," with the great room and main portion of the living area built with Timber Framing, while the rest of the house utilizes the Timber Trace™ system with LVL beams and Structural Insulated Panels. This Hybrid design can provide significant cost savings for our home owners, while still providing the energy-efficiency and elegance of a Timber Frame home.
The advantages of SIPs include:
Energy efficiency- more energy efficient than conventional construction,
Increased structural strength
Reduced air leakage-less drafty, less mold, moisture and dust
Pre-cut at the factory- speeds the construction process
Quieter- less noise infiltrates home
Environmentally friendly-made from sustainably harvested trees and foam insulation
Waste reduction-little job site or factory waste is produced in panel manufacturing
The strength of the panels is similar to steel I-beams with the insulation making up the center section and the two flanges being the wood panels. Both exterior walls and the roof system in Structural Insulated Panel Homes can be constructed from panels.
Some companies do not pre-cut their panels resulting in a tremendous amount of job site waste and loss of production. All of our panels are pre-cut, ready to fit windows and doors.
Homes that are framed with SIPs are exempt from the energy code blower door requirements. Often, an R-38 roof will be accepted by code because of the trade off in the higher R-value walls. This fact has caused many 'stick framers' to take a second look at SIPs. When compared with 2x6 framing, exterior rigid insulation, sprayfoam and caulking, SIPs look more cost-competitive all the time. Hearthstone recommends R-24 SIPs walls and R-38 or R-49 built-up T&G roof for the best Timber Frame value for the money.
Although the SIP technology has been in use since the 1930s the increased need for energy efficiency as well as environmental considerations has made this technology an important part of today's building practices.
Learn more about Green Building with Structural Insulated Panels.
View our Cabins & Cottages Collection plans designed for Hearthstone Panel  Homes.
For more information or a free consultation call us at (828)963-8090 or email us.
For information on our sustainable building practices visit our GREEN BUILDING PAGE.
Photo Gallery
Click on the images below to view more details:
Contemporary Mountain Style