Ideas for How to Build a Log/Timber Frame/Sip Package Home
Despite modern innovations in architecture and building materials, homeowners are inexorably drawn back to the rustic charm of timber homes. There is something about the natural, cozy aspect of heavy timber siding that modern materials simply cannot match.
To help customers achieve their dream timber home, providers such as Hearthstone Homes are able to maximize innovations in prefabrication processes to create stunning heavy timber and hybrid home kits offsite, offering solutions to those with heavy timber visioning for their home, barn, and/or barn homes that take into account possible value engineering. By leveraging their passion and expertise in erecting heavy timber structures and combining this with the skills and know-how of local contractors and tradesmen, it is fully possible to use Hearthstone to complete a heavy timber hybrid home in a fraction of the time you thought possible, increasing efficiency and creating benefits through value engineering. To see exactly how this works, keep reading for ideas on how to build a timber frame home and how a timber package home company like Hearthstone can assist you with your visioning!
Understand Exactly What You Want from Hearthstone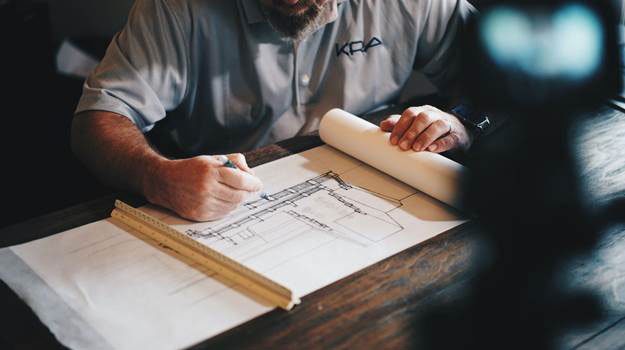 There is an extremely wide array of log cabin floor plans from which prospective homeowners can choose. While this is undoubtedly exciting, it is critical that you hammer out exactly the type of floor plan you want prior to ordering a prefabricated timber home. As constructing a package home will involve a balance of the expertise between Hearthstone and your local general contractor, you want to be as detailed as possible up front to avoid delays.
The best course of action is for the buyer to consult with the architect of their choice to finalize a detailed floor plan while working closely with Hearthstone. After arriving at a floor plan, you are then in a great position to arrive at a more detailed site plan to assist Hearthstone's architectural team. A site plan is to the site what a blueprint is to the home. A site plan will help Hearthstone consider the building footprint, drive, underground power, and other improvements--such as a well, septic retaining wall, etc. Topographic information is also helpful to determine foundation detail, grading, and fill needs. As a pro tip, it is always important to consider designing the building footprint "across the slope" - rather than "down the slope" to save on foundation costs. By coordinating all aspects of the floor plan and site plan with your architects and Hearthstone, you are guaranteeing that all parties are on the same page prior to the fabrication of the timber frame kit.
What Hearthstone Provides You
Once your floor plan and site plan are set in stone, you are ready to order your timber frame package home. You can expect Hearthstone to furnish you with the entire skeleton of the custom home. Some of the elements you can expect to receive include:
Timber frame, log walls, and/or half log siding
Rafters, beams, and girders
Porch timbers
Special slotted jambs
Spline system
Hardware
You can also expect Hearthstone to furnish you with Perma Chink exterior products. This will provide the desired stain and finish to your package home. This top-line chinking option uses one coat of Lifeline ULTRA-1 followed by a clear coat of Lifeline Proguard to guarantee the utmost in beauty and weather resistance for your log home. Some of the most popular Perma Chink finishes are Beachwood, Smoke, and Sequoia, but the possibilities are not limited to these colors.
Hearthstone will also furnish you with a professional assembly team. This crew will erect the skeleton of the timber home and guarantee that all parts of the kit are fitting together as designed. They will also take steps to ensure that common enemies of many timber designs (fire, insects, and rot) are effectively preempted in your new log home.
What You Provide: A Local General Contractor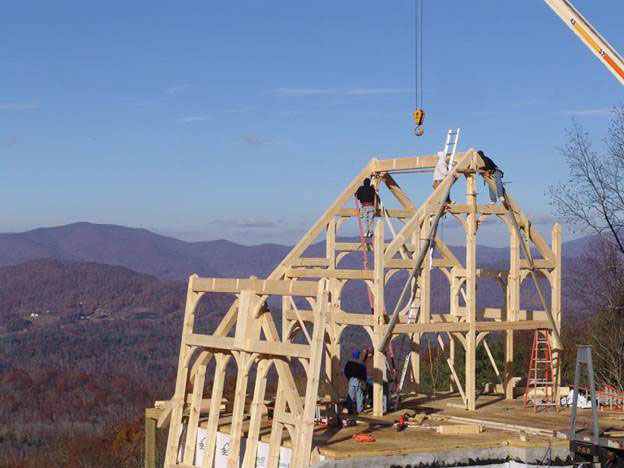 While Hearthstone will provide the skeleton and all of the requisite parts that make a log home a log home, it is important to remember that this is a team effort and will require some coordination with your local contractors.
Before the log home kit can be erected, it is critical that you have an appropriate foundation in place. Hearthstone will reference the detailed site plan that is compatible with your build, but they will not actually build the foundation itself. Therefore, you must coordinate with a local contractor who can execute the site plan as specified.
In addition to the foundation, you must provide a contractor for any stone work, subfloor, and aspects of the house beyond the timber framework. This may include heating and electrical systems, cabinetry, and plumbing.
Review the Final Product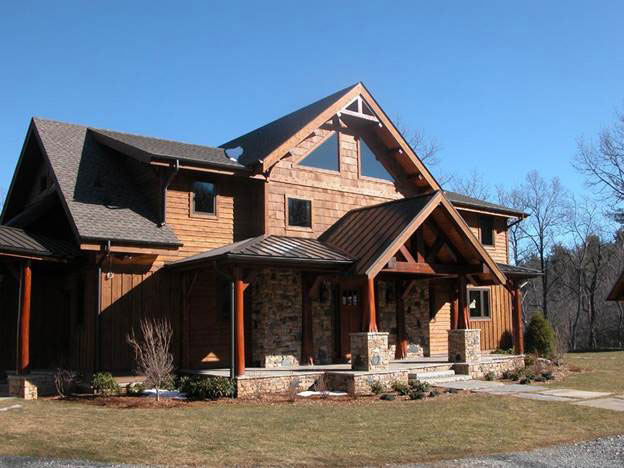 Before the book is closed on any timber-packaged home, Hearthstone will double-check with you to ensure that you are entirely happy with the "bones" of your heavy timber home. Their philosophy is that they want to provide you with the materials and services necessary for the construction of any "tricky" aspects of log cabin design while leaving any conventional components, such as landscaping and applying log cabin paint, to your local tradesmen. This helps you ensure that all professionals involved in the construction process are maximizing their core competencies, allowing you to move into your custom heavy timber cabin as quickly and affordably as possible.
The Bottom Line on Building a Timber Frame or Structural Panel Home
Modern innovations in prefabricated timber homes have made it possible to get into a heavy timber home faster than you likely anticipated. To help you through the process, contact Hearthstone Homes today for ideas on how to build a log, timber frame, or SIP package home!
Andrea Erickson is a freelance writer that loves sharing her knowledge and expertise on home construction and renovations. She lives in her hometown of Austin, Texas where she enjoys spending time with her husband and decorating with her children. Andrea's work as a freelance writer can be found on Building Product Advisor, a new construction industry resource launching in Fall 2022.