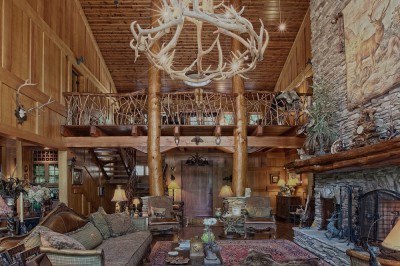 Reprinted from: Focus: A Newcomer's Guide to the High Country, A Publication of the Boone Area Chamber of Commerce, 2013 edition.
Between a generous number of companies and local architects, there is a wide variety of or businesses, everything is made with great respect to the environment. It is by honoring the area's natural elements that residents and business owners alike are able to stay true to the notion of mountain-style living.
Eco-friendly construction has become a common requirement among potential residents that are looking to build a home. In recent years, several local companies have recognized that their clients are now requesting that their houses be built with natural elements, such as native barks and stones.
But while this type of design may be fashionable today, one business in particular, Mountain Construction Enterprises, has been implementing this strategy for the last 25 years.
A premier example of how the company uses raw supplies is showcased in one of its custom homes built in Foscoe, N.C. This specific abode was made as a couple's second home from the very timber and stone collected at its building site. With white birch wallpaper and an intricate webbing of branch limbs framing the staircase, the completed product was the very definition of a natural home place.
When the pioneers settled this area, they used the materials already at their disposal: timber, stone and bark. "We're doing the same thing today," says Mark Kirkpatrick, the company's owner and president.
David Patrick Moses Architects is another company that is following suit with this trend. Its projects use raw materials that work to blend the structure with its surroundings. These homes are designed to provide an organic atmosphere to inhabitants by not disturbing the land around their property sites.
Also welcoming homeowners is the Blue Ridge Mountain Club. This development was built as a secure and gated community close to Boone. Houses in this location feature components such as pine and stone. This community additionally provides private access to 6,000 acres that are complete with hiking and ATV trails, fishing streams and breathtaking natural spaces.
"Living here is every bit as spectacular as living on the Blue Ridge Parkway," says Jim Pitts, general manager of the Blue Ridge Mountain Club.
On the business end of construction, one company that achieved eco-friendly status is the Animal Emergency Clinic. Given the Award of Merit in the New Construction-Small Commercial category by the Boone Area Chamber of Commerce in September 2012, the clinic is a showpiece of beautiful architecture and innovation.
In early 2013, the structure was pending Leadership in Energy and Environmental Design (LEED) Certification. Buildings that have been LEED certified are designed to lower operating costs, reduce waste, conserve energy and water, reduce greenhouse gas emissions and much more. Upon approval, the clinic would be one of the few LEED businesses in the Boone area and only the second LEED vet clinic in the state.
"Having a LEED certified project like ours, I believe, sets a good example for other folks who are building in the area that we ought to be paying attention to these environmentally friendly models," says the clinic's owner, David Linzey.
The architect behind the facility is Bill Dixon at Appalachian Architecture, a full-service commercial and residential firm located in downtown Boone.
"We shared a lot of the same contemporary tastes," says Dixon, speaking on his collaboration with Linzey. "We loved all the materials and finishes he [chose] for the construction."
With architects and contractors using such tenable, natural elements, Boone's beauty will continue to blossom for generations to come.
Mountain Construction is a full service custom builder offering Log, Timber Frame, Structural Insulated Panels nationally as well as local New Construction of any type and Remodeling and Restoration services. We are NAHB Certified Green Professionals.
To find out how we can help you build or remodel your home Contact us.
See more photos of our work.