For more information or a free initial office consultation CONTACT US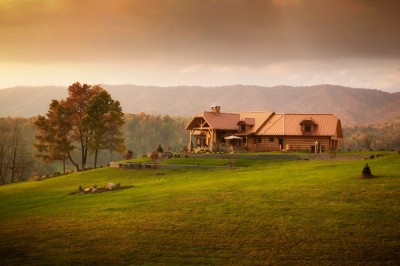 A Tennessee home rewards a Gulf Coast couple
Story by Teresa L. Wolff; Photos by Steven McBride Photography
Reprinted from Log Homes Illustrated, May 2006
When Cheri Nelson and Charles Wendland met 15 years ago, she was managing office buildings in Orlando, Florida, and he had just flown there from California to set up a branch office. Eventually, he hired her to work with him. "When we found ourselves on the 'singles scene,' we decided the excellent working relationship we shared could possibly be a strong basis for a personal relationship," Cheri recalls. "We were right, and we've been together ever since."
For a number of years, Charles and Cheri traveled between Orlando and the Mississippi Gulf Coast, taking care of her elderly mother. Eventually, they moved there. After Cheri's mother passed away, her children pressured them to move closer to the family. "We were ready to leave the Southern climate," Cheri says."The summer heat and humidity were about to kill us. Mountain living looked better every day. All four of my children were located in the Carolinas, so that was a logical choice."
Building a log home was the furthest thing from their minds. Over a two-year period, they visited the area several times looking for an existing home with substantial acreage. In addition, they wanted a home that matched their semi-retired lifestyle with sufficient level land and an accessible site to erect an 8,000-to-10,000-square-foot building to house Charles's collection of 25 vintage vehicles, including 13 Corvettes. Additionally, their towing rig--a F650 Super Cruiser with a double hauler--could not handle narrow steep roads or hairpin turns, and since they drove all their cars, gravel roads were not an option.
"We worked our way from the northeast corner of Tennessee, near Mountain City, to the southeast corner and then back up the North Carolina side," Charles says, "all to no avail."
They decided to start over and look for raw land. Near Mountain City, they found a 157-acre parcel that fronted on a state highway and was surrounded by the Doe and Iron Mountain ranges."The best reason I can give for choosing to build a log home is that the property cried for one," Charles points out. "Any other style would have stuck out like a sore thumb."
They quickly chose a log-home company. "In our endeavors to find an existing home, we previewed a number of log homes by various manufacturers," Charles explains. "We loved the massive hand-hewn timbers we had seen in Hearthstone homes and felt the chinking complemented Appalachian history, as well as modern trends."
Hearthstone, Inc., located near Knoxville, Tennessee, referred Charles and Cheri to Mountain Construction Enterprises, Inc., its dealer in Boone, North Carolina. Owner Mark Kirkpatrick showed the couple a number of homes he had built. "A key factor in choosing Mountain Construction was sensing Mark and his crew would not be hard nosed about sticking to the plans but would be flexible and capable of initiating changes that would enhance the final product," Charles says. "This proved to be the case, as they were as open to our suggestions as we were to theirs."
The couple engaged an architect, providing him with very detailed drawings of a layout and notes reflecting their wishes. After several months, it became evident that they weren't on the same page. Mark suggested letting a designer from Hearthstone finish the plans. From that point, the project moved forward rapidly.
Charles purchased a used mobile home and placed it near the building site so he and Cheri could be there daily. "We believe all parties concerned concur this was more of an asset than a hindrance," she says. "We had a fantastic working relationship with Mark and his crew, especially project manager, Ben York. With the close contact, Charles and I managed to run just ahead of them with our decision-making. We had a blast building this home and would do it again in a heartbeat--as long as we could get Mountain Construction to do it for us."
The main floor of the 4,300-square-foot home includes the master suite, a family room, study, dining, kitchen,
full-service powder room, pantry, laundry, mudroom and an oversized two-car garage. The upstairs consists of the main guest suite, a loft den, a second large guest bedroom and a bonus room over the garage that is used as a combination bedroom and play area for the grandchildren. A detached three-car garage, built in the same style, complements the main home. "Our first Christmas, we had 14 houseguests, and the following Easter we had 16," Cheri states. "Charles doesn't understand why they all come at once."
Besides building the home, Mark constructed several pieces of the furniture for the couple. "Mark's crew made the end tables, the stools for our breakfast bar, my birdhouse headboards for the grandchildren's room, their toy shelf and a number of other items," Cheri says. "I would bring a clipping to them. They would roll their eyes and just look at me, but it would usually be done within a few days. I think they actually enjoyed the deviation in their routines because, whenever we left for a few days, they normally had a little surprise for us when we returned, like a little stool or bench."
Cheri does remember how Mark absolutely cringed when they told him they preferred Berber carpet framed with rustic tile in all the walkways, as well as the kitchen and utility areas over hardwood floors. "The finished product has a great deal of appeal, and the use of carpet softens the terrible acoustics you can get with high ceilings and heavy use of wood," she notes.
Nostalgia prompted Cheri to name the property "Wampas Cat Ridge." Her father had been a school principal and farmed an old homestead a few miles away on afternoons and summers. He took Cheri and her siblings to play while he worked. "There were certain areas he didn't want us on, and he would tell us to stay away from them because a mean old wampas cat had his lair there," she says. :Kids that we were, we did't heed his warning until the day when our play was interrupted by the most awful caterwauling you have ever heard. From that day forward, we became believers. It was years before we realized our dad had a real knack for mocking a variety of wild animals."
Having so much land prompted Charles and Cheri to try to maintain 15 to 20 acres as their "yard." At times, they feel they have created a monster. "On the other hand, we must love it because we just keep on clearing and planting more grass," Cheri says. "We have become wiser. We no longer plant just grass but plant a mixture of wildflowers, clover and orchard grass. This way, when it gets shaggy, we can say we can't cut it until the wildflowers bloom out."
Despite their fondness for the home and the property, Charles and Cheri recently realized that they would get more out of life by scaling down. They began working with Mountain Construction to build a smaller home and put their present home on the market. But they're in no hurry to leave. "If it sells in a month or it takes several years," Cheri says, "that's fine with us." Until then, they are making the most of life on Wampas Cat Ridge.
Mountain Construction is a full service custom builder offering Log, Timber Frame, Structural Insulated Panels nationally as well as local New Construction of any type and Remodeling and Restoration services. We are NAHB Certified Green Professionals.
To find out how we can help you build or remodel your home CONTACT US. 828-963-8090
See more photos of our work.