For more information on building or remodeling and a free initial office consultation CONTACT US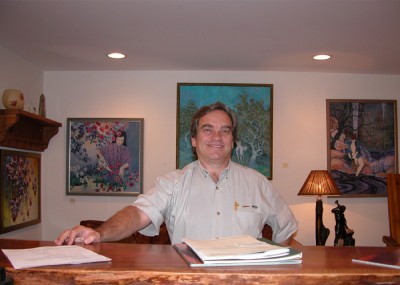 "Building Artisan Custom Homes for Over 25 Years"
Reprinted from High Country Press October 11, 2007
Mountain Construction Enterprises, Inc. Custom Builders and Timber Framing and Hearthstone Homes of Western North Carolina.
Story by Sam Calhoun
A bronze keychain sits on Mark Kirkpatrick's computer keyboard that is inscribed with the words of Winston Churchill, "Never, Never, Never Quit."
Kirkpatrick lives by that phrase–his two businesses are the greatest example.
As the co-owner of Mountain Construction Enterprises Inc. Custom Builders and Timber Framing and Hearthstone Homes of Western North Carolina, Kirkpatrick, who shares ownership of his companies with his wife Debbie Arnold, looks at himself more as an artist than a builder–an artist that never gives up on his dream.
Kirkpatrick's dream was to own a timber frame construction business. Not only has he achieved his dream, but he is also at the top of his field after 25 years.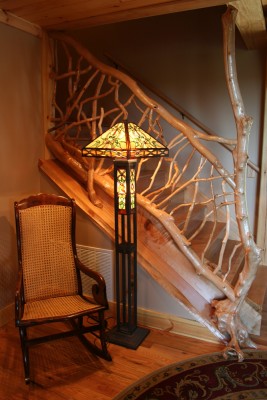 A native of Nashville, Tenn., Kirkpatrick came to Boone in 1979 with nothing more than a dream of owning his own timber frame construction business. For seven years prior, Kirkpatrick taught special education in Knoxville and Nashville, Tenn., as well as in Morganton, using his college degree in special education and psychology from Virginia Tech. When he arrived in Boone, interest rates had dropped, though, and Kirkpatrick was forced to leave again to find work.
When he came back in 1982, he pushed his dream back to the forefront. "I moved to Boone with my 8-track stereo and all the clothes in my car," remembered Kirkpatrick, "Upon arriving in Boone, I walked into SOS Printing, ordered a supply of business cards, purchased nails, an apron and a measuring tape and starved for the next [three] years. It took all those [three] years before I'd get to build my first home, up until that point subcontracting for deck work, siding, trim, framing and other small jobs. Behind me I left years of training and practice as an educator. Building homes was what I was meant to do in this life."
Before Kirkpatrick built his first home in 1985, he worked on Beech Mountain for another builder, eventually running a subcontractor crew doing siding and trim work. In 1985, he built his first home in Valle Crucis.
"And I've worked all for myself ever since," said Kirkpatrick, who built a 5,000-square-foot home in the Aho area immediately following the Valle Crucis job, and then built a home in the Blowing Rock Golf Course. "It didn't happen overnight, though. Just in the last 6 or 7 years have we had increasing chances to do quality work. It's about building quality."
"One of my primary goals in the construction business has been to support a high level of craftsmanship in the trade," said Kirkpatrick, "to allow those who actually produce the work to produce a finished product in which they can take a great deal of pride."
Kirkpatrick and the 30 to 40 people who work for him full-time complete 6 to 10 homes every year. They build homes–some of which use stick-built, timber frame and log concepts–in Boone, Blowing Rock, Banner Elk, Morganton, Charlotte, Jefferson, Linville and all parts in between. Arnold is Kirkpatrick's bookkeeper when she's not focused on her successful art career (www.arnoldfineart.com), and he also has a part-time bookkeeper, Reatha Watson Barnes, and an office manager, Carey Cloninger.
Kirkpatrick runs two businesses that are under one management roof.
Mountain Construction Enterprises Inc. is a full-service residential construction company that specializes in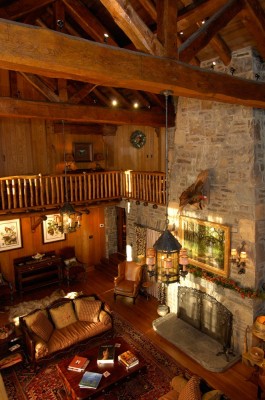 the use of heavy timbers, but will take on jobs that require any kind of custom construction. From new homes to remodeling existing homes, the focus of Mountain Construction is to uniquely replicate a client's vision while enhancing the unique character of the mountain community. Mountain Construction builds anywhere, but has finished notable projects in Grandfather Golf and Country Club, Tynecastle, Sugar Mountain, Blowing Rock and Linville.
According to Kirkpatrick, a satisfied Watauga County homeowner once noted, "I've had four homes built–all homes the builders themselves wanted me to have, but you designed and constructed the home I wanted built."
"When I engage in a designer-builder relationship, I strive to construct the home the client wants, not the home I may personally want the client to have," said Kirkpatrick, who prides himself on having many general contractors ask him to build their own homes. "One former client indicated that walking through his great room was like walking through a large piece of finely crafted furniture."
Kirkpatrick's other business is Hearthstone Homes of Western North Carolina, a subcontract log and timber frame service that he affiliated with in 1987. Working with clients' general contractors and architects, Kirkpatrick provides complete timber entries, great rooms or timber frame home "dry-in" services. As subcontract timber suppliers, Kirkpatrick's Hearthstone Homes offers residential and commercial timber frame and log services. The company–that has sold and serviced timber frame commercial buildings in Charlotte, Beaufort, SC, and High Point–sells primarily in North Carolina, Virginia and Tennessee, but it can sell virtually anywhere in the world.
"I love timber framing," said Kirkpatrick, who believes that timber frame homes remain historically significant for generations. "It's Enhancing the character of the mountain community we live in. I want Boone and Banner Elk to be destinations, not tourist shopping spots on the way to Blowing Rock."
In Kirkpatrick's 25-year career as a builder, he has completed projects as small as $50,000 to new construction that encompasses 14,000 square feet.
"If someone will allow us to do quality work, then it doesn't matter the size," said Kirkpatrick.
An admitted neat-freak, Kirkpatrick is meticulous about keeping his job sites clean, as well as his massive woodworking shop that is below his office and showroom on Poplar Grove Road in Boone. That shop is where one of his former employees, Bucky Black, created the sliced wood bar top for the Boone Saloon.
Kirkpatrick's construction resume is so extensive that it's hard to sum up, but one of the projects that he is most proud of is his company's remodel of Miramichi-the former home of Joseph and Anne Cannon, often called the most prominent Blowing Rock historical seasonal home still in private family hands. Built in 1927, Miramichi belonged to the Cannon family until 1965 and, after being on the market for many years, was bought by a new family that wished to restore–not remodel–the home to its original grandeur. They came to Kirkpatrick and the rest is history.
"It's like an honor to be asked to do this stuff," said Kirkpatrick, who finished the restoration last year. "And it's so much fun-being creative, you know?"
Mountain Construction Enterprises Inc. is located at 1345 Poplar Grove Road South in Boone. The shop, office and showroom are open from 8:00 a.m. to 5:00 p.m. Monday through Friday and weekends by appointment. For more information, call 828-963-8090
Mountain Construction is a residential custom home builder local to Boone, Blowing Rock, Banner Elk, Linville, and Lake James, NC. They specialize in new home construction, remodeling and historic restoration as well as porches, decks and additions. We are fully licensed in North Carolina and in Tennessee. We are NAHB Certified Green Professionals.
See more photos of our work.