For a free consultation about your building needs CONTACT US
As North Carolina Timber Frame Builders we believe that Heavy Timbers such as Log Homes or Timber Accents on the interior and the exterior of your home can add organic flavor to your living space. These flavors can enhance your personal connections to nature. Your home can remind you of setting up a tent and camping, climbing trees or building a tree house when you were younger. Having wood, or actual trees, in your home can also add to a sense of building tradition. Our forefathers hewed out trees to build Log and Timber Frame Homes on the frontier of both early America and in the continents of their origin. There is history of Timber Frame Homes and Log Home construction throughout the world. You, your family and your friends will all enjoy the natural elements that you can select to spice up the feel of your home.
There are many ways to Add Heavy Timber and other Natural Element Accents to your Home:
1. Timber Frame Trusses in your Great Room
2. Ceiling beams in your kitchen and cherry bark cabinet door panels
3. Timber Porte Cochere, Timber Trim and Timber Outriggers.
4. Timber Frame Covered Decks: round logs or square timbers
5. A Timber Frame Front Entry: round logs or square timbers
6. A Heavy Timber Ceiling in your Master Bedroom
7. A Timber Frame Trellis or Gazebo
8. Heavy Timber Stairs: square cut, live edge or Round Log
9. Decorative Timber Eave or Gable Brackets
10. A Timber Frame or Log Outdoor Fireplace Pavilion
11. Fireplace Mantel
12. Poplar Bark siding
13. Bark or Cabinet Door Panels (there are many more ideas).
The use of Timber Accents and other Natural Element wood products is limited only by your imagination and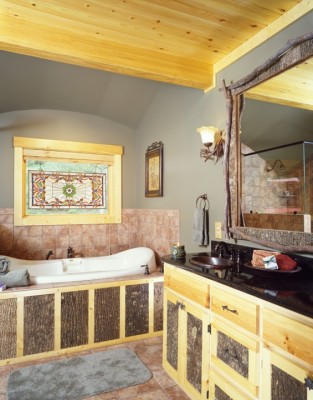 your budget. Preparing Natural Element Wood Products can be labor intensive and require the handling of the wood many times before it is considered Art for the Home. Timber Framing and Timber Elements take no more wood than a conventional frame home, where wood is sawn into small framing members and spaced more closely together.
To add to your Timber Frame, Log or Timber Accents there is a growing segment of the artistic and green building market that includes use of timber slabs for counter tops, bark for siding and cabinets and the use of other wood products that historically were cast off, burned or disposed of in other ways. Today, they can be cleaned, kiln dried and used on the interior or exterior of your home. This former "waste" material is recycled and used as natural element art --- a tradition used by necessity by our ancestors as well as indigenous peoples. This, along with the use of Super Insulated Panels, brings new Green Building technology to traditional Log and Timber Frame construction.
Mountain Construction are Custom Builders in NC. We are happy to work with you as Cabin Builders on your next log cabin. Over the years, we have accomplished a great deal as North Carolina Timber Frame Builders and we invite you to take a look through our site to see some examples of our work. Contact us for more information on using Natural Elements in your custom home.
Hearthstone is the premier manufacturer of log homes and timber frame homes. Located in East Tennessee, our designers can provide breathtaking log home and timber frame home plans from our collection, or from your designer's or architect's plan.
You are welcome to reprint this articles on your website and in your e-newsletter provided that: you don't change the article in any way and you included the by-line along with a link to this website.
See more photos of our work.