For more information on GREEN BUILDING or a free consultation CONTACT US
We are custom home builders for North Carolina and Tennessee. We build homes in Boone, Blowing Rock, Linville, Banner Elk, Lake James,NC and Watauga Lake,TN.
Properly Installed INSULATION Quieter, more comfortable, and reduction in utility bills. Expensive to retrofit!
Tight Construction Less air infiltration, less bugs, dust, mold and pollutants. Most homes have an opening in the building shell the size of a window open all year long!
Sealed Ducts Quieter and Cleaner, lower utility bills, less dust, mold and pollutants entering the house through duct system.
Advanced Windows More efficient, added comfort, UV protection offers longer life for carpet and furniture.
Properly Sized High efficiency Equipment Cheaper operating costs, quieter operation, and added comfort.
Inspections & Testing Third-party verification guarantees quality and documented performance.
SEATTLE, Wash. (July 1, 2008) - On the one year anniversary of the Northwest Multiple Listing Services addition of green design search features to its property listings database, analysis shows that new environmentally-certified (ECert) or green homes in King County sell in up to 18% less time and for 28-37% higher value per square foot. ECert homes are built to a higher standard than local building codes require. These better built homes offer a variety of potential benefits including increased energy efficiency, water conservation, improved indoor air quality, environmentally-preferable materials, and reduced construction waste.
GreenWorks Realty founder Ben Kaufman led the charge to introduce ECert search categories on NWMLS. He notes, "The new data shows buyers are indeed going green and certified homes have more value. This is good news for our kids, our communities, our planet...for all of us. We also see green homes command a higher return on investment. This information encourages savvy remodelers and builders to make green a priority."
"There are a lot of great northwest builders building ENERGY STAR homes, this information should convince the rest to go green," Ben Yenter, Director of Marketing for Northwest Energy Star.
This data showed that new construction ECert single-family homes sold in 18% less time, sold for 4% more, and were 25% smaller than non-certified homes. Smaller footprint homes require less energy and natural resources to build and maintain, thus are more environmentally-friendly. Priced per square foot, ECert homes were 37% more valuable.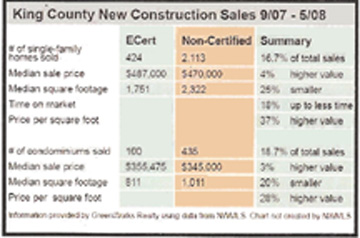 Full Report Available at www.greenworksrealty.com
Building Performance Engineering
P.O. Box 348
904 W. King St.
Boone, NC 28607
828-265-4888
www.buildingperformanceengineering.com
Mountain Construction is a full service custom builder offering Log, Timber Frame, Structural Insulated Panels nationally as well as local New Construction of any type and Remodeling and Restoration services. We are NAHB Certified Green Professionals.
To find out how we can help you build or remodel your home CONTACT US.
See more photos of our work.