For a free initial office consultation about your building project contact
MOUNTAIN CONSTRUCTION ENTERPRISES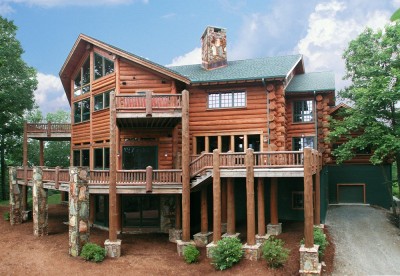 Just a Little Log Home
By Scott Robertson
Reprinted from Marquee Magazine, Autumn 2003
When a prominent North Carolina physician said he wanted an out-of-the-way place to build a log home, he didn't settle for second best.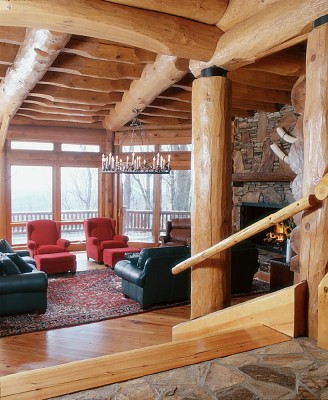 He hired realtor Gail Smart of Blowing Rock Properties to find the perfect site for the log home back in early 2000, and she delivered. The 200-acre Caldwell County, N.C. lot on which the log home is built is surrounded on three sides by the Cherokee National Forest and includes a 70 foot waterfall. Before constructing the home, builders first had to create a road to it, complete with underground power.
Builder Mark Kirkpatrick of Mountain Construction Enterprises, whom the owner called in to work on the log home, remembers how impressed he was by the site. "Oh, it's amazing. It has a 100-mile view," Kirkpatrick says. "It really is just a great piece of dirt."
On that dirt, Kirkpatrick has built a 14,000-square-foot log house designed by David Patrick Moses Architects. Construction took three years and included 19 tractor-trailer loads of logs from Canada. The logs were brought from Ontario by Bullock & Co.'s Tim Bullock.
"We peeled and treated the logs here in Ontario," says Bullock. "Then we put the house together here, made sure everything fit, then numbered each log, disassembled the house again and shipped it to the site."
When Bullock had the logs in place in North Carolina, the Mountain Construction team stepped in to provide the final custom log detailing of the stairs, decks and porches.
The came the water--and lots of it. It takes four 80-gallon water heaters to keep the house supplied. There's a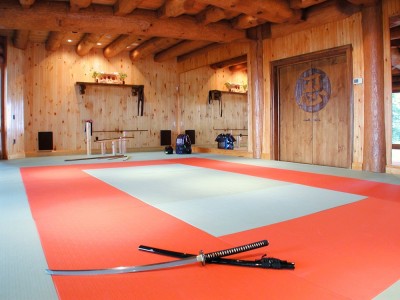 whirlpool bath positioned to take full advantage of that 100-mile view. The master bathroom has a sauna and a steam shower that can accommodate six.
The four-story log home is easy to navigate, thanks to four sets of stairs, and elevator and even a dumbwaiter. There are seven fireplaces in all. The mantel in the great room stretches 14 feet. The home also includes a complete martial arts dojo, the floor of which is padded with a special tatami rice-straw textured vinyl of the type used in the Olympic Games.
Mountain Construction does custom home building in any building style, including conventional new homes, remodeling and renovations, log and timber frame homes and structural insulated panel homes.
See more photos of our work.