For a free initial office consultation about your building or remodeling project
contact MOUNTAIN CONSTRUCTION ENTERPRISES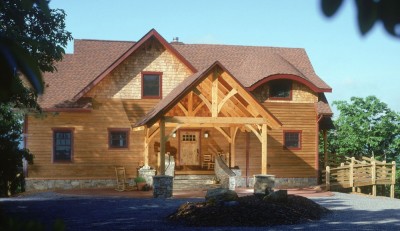 "Circle of Friends: A North Carolina Couple builds an artistic timber frame home with a little help from their friends."
Story by Deirdre R. Schwiesow; Photography by Rich Frutchey; Featured in Timber Home Living, June/July 2005
In the early 20th century, Black Mountain, North Carolina was a hotbed of the arts. Rich and Melinda Halford's new home, nestled into the Black Mountains, echoes that legacy of creative self-expression, from its blend of design styles to its instrument-filled music room.
Artistic sensibility isn't its only hallmark, however. This home also serves as a tribute to the camaraderie and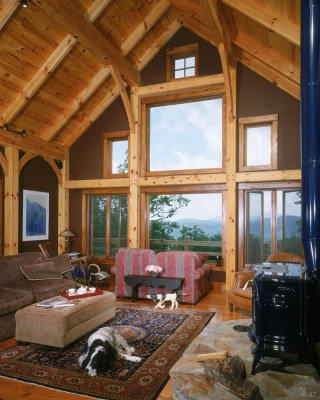 friendship that went into its construction. Its name, Heartwood Mountain Lodge, says it all. "We have a wealth of friends who put their hearts into this timber frame home," explains Melinda. "We couldn't have done it without them."
When Rich and Melinda first considered building a timber home, they consulted Mark Kirkpatrick, a college buddy who owned a local timber frame and log home construction company called Mountain Construction Enterprises, Inc. (a regional distributor for Hearthstone, Inc.). Rich and Melinda had long been impressed by the company's work and valued Mark's input. Edward Lewis, an architect friend, worked with Mark to refine the couple's preliminary sketches, and a Hearthstone draftsman adapted the design to timber frame construction.
The couple purchased an 18-acre property at 2,350 feet that overlooked a river gorge with hickory, oak, pine, maple and hemlock trees. Another friend, Dave Edwards, help them build a screened-in porch on the site, from which they could "dream and scheme the home's design," says Rich. "Our biggest goals were to capture the views and the sunlight, blend in with our setting and keep the interior cozy."
Hearthstone provided the home's eastern white pine timbers. "But the master bedroom and guest bedroom weren't timber frame," says Mark. "Deciding to build a hybrid instead of a full timber frame home saved them a lot of money." They chose a principal-purlin framing system with mortise-and-tenon joinery for "a more elegant and continuous feel," says Rich.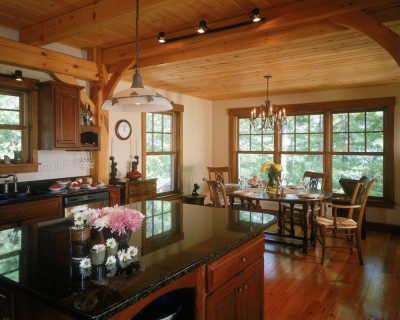 Rich and Melinda then hired Dave Bogin, a Marshall, North Carolina-based contractor, to build the home. "His previous clients talked about him as if he was a part of their family," recalls Rich. To ensure that the home was eco-friendly, Dave stained the wood with Bio-Shield, which is made from natural oils. Ultimately, only the flooring of the great room--century old heart pine gathered from a distillery and a cotton gin--was coated for protection.
Running power and telephone lines underground helped blend the home with the landscape. The home also incorporated an eyebrow dormer, extra large decks, a portico and cedar siding. In one year, construction was complete.
Artistic Arrangement
The 2,550-square-foot Heartwood Mountain Lodge is set atop an exposed ridge, the driveway curving down to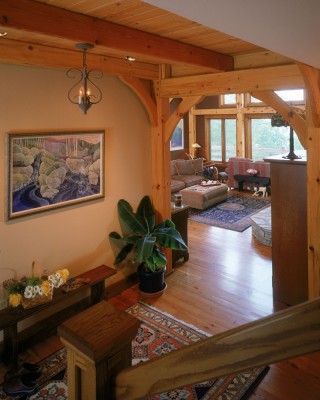 the garage and daylight basement in the back. The portico covers stone steps built by Dave that lead up to the front entrance. A ramp provides wheelchair access to a side entrance and creates an entryway for Bella, the couple's 11-year-old English setter. The side door opens into a mudroom/laundry room with a laundry chute rising up to the second floor.
The front door opens into a large foyer that connects to a guest room and bathroom. A stairway leads to the music room, home office, master suite and balcony. Just past the foyer, the great room, which offers magnificent views of the surrounding mountains via cathedral windows, opens to the kitchen and dining alcove.
The great room furniture is arranged around a Vermont Castings wood-burning stove (the home's main source of heat). Although the house has a propane heat pump, Rich and Melinda use it primarily for air-conditioning and dehumidifying in the summer. Melinda loves the stove's beauty and ease of use--and it's cheaper than a wood-burning fireplace. The stove sits on a large hearth of sparkling Carolina Rose granite built by stonemason Dave Petrie, who mixed in stones standing on end and added a cherry mantle. The dry-stack pattern of the hearth echoes the look of Dave Bogin's exterior stone work.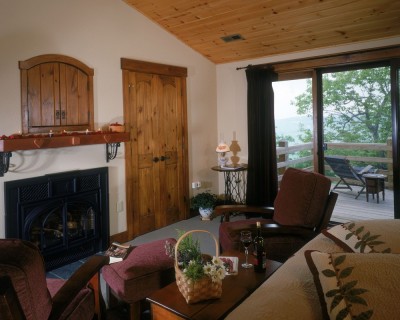 Simply Stylish
Rich and Melinda combined Arts & Crafts and Mission styles for "eclectic and simple" decor. Melinda started with a palette of natural tones on the walls, including cream, gold, sage and a color based on a Japanese maple leaf. To create the feel of an older house, the couple chose accessories with a vintage look, such as Tiffany lamps and a handcrafted French cherry dining table that is a reproduction of an antique. Dave Edwards helped the couple design the kitchen's cherry cabinetry, which was built by an Amish family in Illinois.
A friend provided ironwork pieces, and Mark Kirkpatrick's wife, Debbie Arnold, contributed three of her paintings. But the prized feature is a stained-glass window in the master bathroom that was created by a local artist. This work exemplifies Heartwood Mountain Lodge's blended tribute to friendship and creativity: In one corner of this magnificent window is a Celtic knot, with two hearts intertwined as one.
Mountain Construction Company are North Carolina Builders that specialize in New Home Construction of all types. We also provide Remodeling services are happy to work with you on your next building project.
See more photos of our work.