For a free initial office consultation or to learn more about building contact Mountain Construction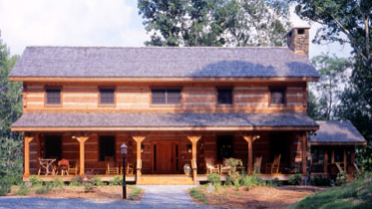 "Home is Where the Heritage Is"
Story by Iyna Bort Caruso; Photos by F&E Schmidt Photography; Featured in Log Home Design Ideas, July 2003
Dubbed "The Overflow Lodge," this guest house on an 80-acre compound in western North Carolina is as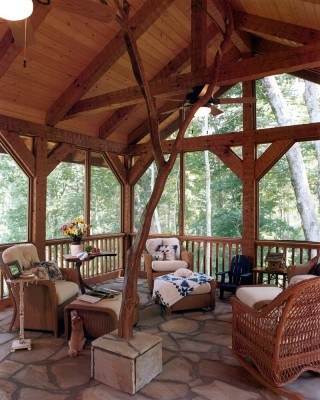 much about the family as it is for the family.
Only supersleuths would find the names of owners Howard and Joyce, their children and grandchildren burned into the wood behind the kitchen cabinets. "If anyone takes the kitchen cabinets down 150 years from now, they'll say, "What in the world was that?" muses Howard, a retired corporate executive and the family patriarch.
In a bedroom, a crepe myrtle shrub planted by his father 50 years ago was made into a bed by a local artisan. Petrified wood salvaged from their childrens' property in Colorado is hidden in the fireplace. Building in memories was crucial to the couple's plan.
North Carolina natives who spent the last 30 years living in Connecticut and Colorado, Howard and Joyce decided to return to their Southern roots. They bought a home on a wooded parcel and settled in for the warm weather months. But the house wasn't quite big enough to hold all the relatives and friends who wanted to visit them. "That's why we had to build them a house," Joyce says.
In just a few short years, the couple has transformed the grounds with ponds, perennial gardens and hiking trails. "We're nature people," says Howard, a registered arborist, "so we go out and walk and talk about the trees and the plants."
But it is the addition of three extraordinary log structures that makes this parcel unlike any other.
Have Logs Will Travel
The first new building on the grounds was actually an old-timer: a one-room log home built in 1820. The couple found it on the Internet. The only problem? It was in Virginia so they arranged to have it shipped south. The cabin has no electricity or plumbing.
"It's more of a museum than anything," Howard explains. He had the home restored as part of the learning process "to see if I could build a full house out of old logs."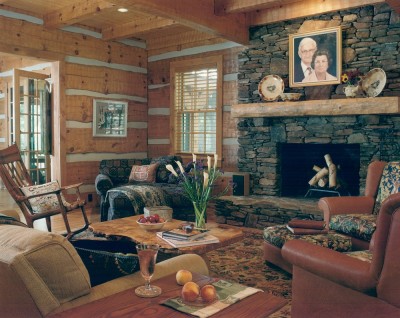 Next came the guest home, for which authenticity was the driving force. Vintage logs were the couple's first timber choice. It proved too difficult, however, to find enough logs in the right size. Instead, Howard and Joyce chose the next best thing: a custom design from the Bob Timberlake Log Home Collection by Hearthstone Log Homes.
Hearthstone hand-picked the home's massive 8"x 20" white pine timbers from east Tennessee and western North Carolina. "[Hearthstone] was the only company I found that left the natural edge on the trees," Howard says. The bark was hand-peeled off the top and bottom of the logs with a drawknife.
The traditional dog-trot style house is 5,000 square feet with a full basement. It has four bedrooms, 5 1/2 baths, a workout room and a home theater.
"It's kind of Appalachian rustic meshed with Adirondack detailing," says builder Mark Kirkpatrick, president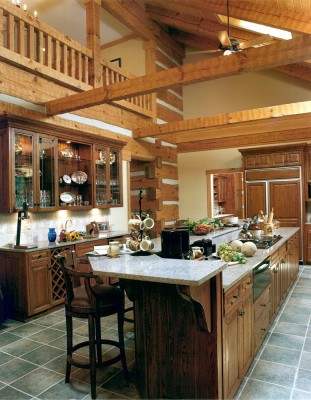 of Mountain Construction in Boone, North Carolina. "It's a very unique log home because the butt of the tree might be 28 inches and the top of the tree might by 17 inches. It takes quite a bit of work to put one of these packages together. There's just a lot more detail in it. The chinking joints are varied; some are two inches and some are four depending on the shape of the tree.
That was especially appealing to Howard. "It was the way chinking would have been done originally," he notes.
To Each His Own Suite
The planning process took about six months. Construction ran about 14 months and was completed last summer.
"Hearthstone's home is such a well thought-out product" says Kirkpatrick, "that we had virtually no problems."
In the main guest house, the design layout was predicated on privacy. Each bedroom has its own bath and no bedroom shares a common wall. In fact, most don't even share a floor. There's a bedroom in the basement, one on the main floor and two more upstairs.
Howard calls the home "functionally efficient. I was trying not to make it ostentatious." Free of pretension, it's also full of smart, high-end detail like dovetail construction. There's hardly a nail to be found.
"The carpenters really enjoyed working on the house," Joyce says. "We let them be artists and craftsmen." She adds, they made it a priority to hire local workmen and women. "Their Appalachian skills are so well honed."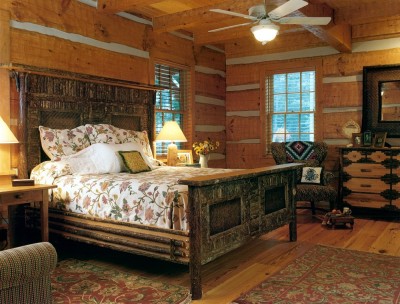 The home takes creative license with woods like pecky cypress, wormy chestnut, maple and heart of pine. Visitors spot the most dramatic woodwork the moment they walk in the front door. The entryway flooring is black walnut with live edge bark edges inlaid into stone.
"I was lucky to have a really nice neighbor who cut a walnut tree down and his this slab in his workshop," Howard explains. To accommodate the design, the floor had to be lowered three inches when the house was framed to avoid having a step-up from the adjoining room.
Luck was with Howard and Joyce again, this time in their search for chimney and fireplace stone. "I wanted it the way it would have been done a long time ago--picking rocks right out of the field," Howard says. It turned out their local stonemason was dismantling a rock wall on his property. The stones were exactly what Howard was looking for.
Another distinctive touch was similarly inspired by the past: a custom-built Indian door with about 100 pounds of historic rosehead cut nails. According to Kirkpatrick, "It's almost solid steel because there's a nail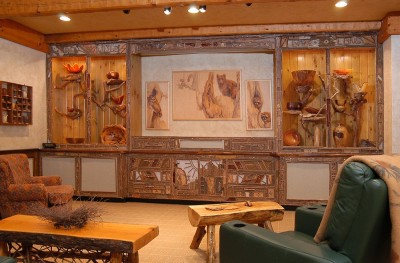 every two inches." The original intention? To dull Indian hatchets. The idea was suggested by a member of Kirkpatrick's construction crew.
Though the couple has lived in nine homes over the years, this was their first new build. No question it was worth the wait.
"A log home was the only kind of house my husband ever really wanted," Joyce says. He finally got his wish. Ironically, it's the guests who get to enjoy it the most.
Hearthstone is the premier manufacturer of log homes and timber frame homes. Located in East Tennessee, our designers can provide breathtaking log home and timber frame home plans from our collection, or from your designer's or architect's plan.
Mountain Construction does custom home building in any building style, including conventional new homes, remodeling and restorations, log and timber frame home and structural insulated panel homes. Check out our site and learn more about Log Home Building North Carolina, our Boone NC Construction and Boone NC Remodeling services.
See more photos of our work.