MOUNTAIN CONSTRUCTION
LAKE JAMES PREMIER BUILDERS
1345 Poplar Grove Road South, Boone, NC (828) 963-8090
THERE HAS NEVER BEEN A BETTER TIME TO BUILD YOUR LAKEFRONT HOME
CONTACT US for a free consultation in our office.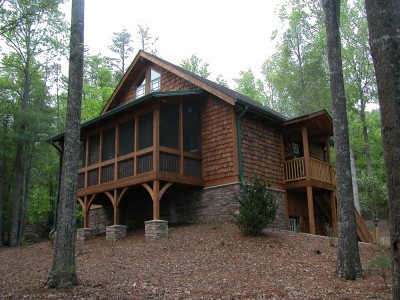 Mountain Construction built this Guest House at Black Forest on Lake James.
--------------------------------------------------------------------------------------------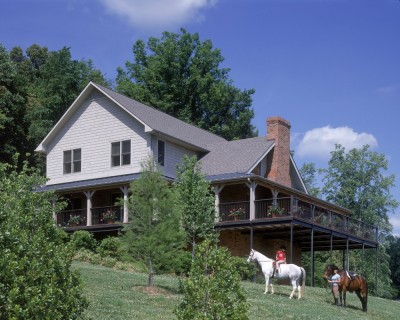 Mountain Construction provided the Timber Frame for this farm-house style home in Morganton, NC.
------------------------------------------------------------------------------------------
These homes are built on small private lakes. Lake James building guidelines have set back stipulations and other requirements that vary according to the location of your property.
Mark Kirkpatrick and Mountain Construction-known for Creativity, Honesty and Experience "Building Art You Can Live In" for over 25 years
Mark Kirkpatrick- Experience and vision to build your Lake James memory
We practice the sustainable building practices especially important in lakefront building.
We have experience guiding our clients through the Lake James building process- working with
Crescent Resources and your neighborhood architectural review boards.
Bring us your unique vision.
We can use a plan you have or help you design your perfect lake home.
We also have worked with many designers and architects and can make recommendations.
New Conventional Homes Log Homes Timber Frame Homes
Remodeling and Restoration certified green builders
WHAT WE OFFER OUR CLIENTS
Fully licensed at the Unlimited level
Highly skilled creative craftsmen
Our premier homes will outlast those of other homebuilders.
Organic, environmentally friendly materials used in building your unique lake home
Experts at building on steep sites
Many building styles and types of construction such as Adirondack, Log, Timber Frame,
Poplar Bark, Stone or timber accent homes
Certified green builders using Super-Insulated Structural panels and recycling building materials as well as the latest technology Remodel: Recycle, Re-use, Improve
We offer the best for the most reasonable price. We offer FREE consultation in our office and assessment of your needs and, if needed, can recommend designer and architects
For Much more information on us and all of our services and products visit our main website www.mountainconstruction.com
Mountain Construction is a full service custom builder offering Log, Timber Frame, Structural Insulated Panels nationally as well as local New Construction of any type and Remodeling and Restoration services. We are NAHB Certified Green Professionals.
To Get Started Now
Please contact us to see our work. You can reach us by phone at 828-963-8090, email us, or use our online information request form to let us know how we can serve you!
See more photos of our work.